In agreement with Steve Lambert's call to action, I believe it's important to consider historic frameworks to help recognize the ideologies we work within. Using passive proclamations like "I'm interested in" runs counter to the way most artists work: with compulsion, urgency, and deliberate intention. Instead, that phrase reads as ambivalent and denies our agency as artists. This ambivalence can be interpreted as part of an historic lineage, though. The more we comprehend these frameworks, the more we will be in a position to move past them.
Centuries of oppressive histories defined by mass media's ability to proliferate autocratic propaganda have led people to continually redefine their social, political, and personal selves. During and after WWII, people worldwide carried a deep aversion to anything that resembled state ideology. Fears of authoritarianism have led to strong countercultural movements proclaiming the authoritarian voice to be out of touch with reason.
Later, as a more egalitarian media began replacing the singular voice of mass media, it proliferated all kinds of social space. An example of early "democratic" media can be found in The Democratic Surround by Fred Turner. He connects this type of media display to an exhibition of documentary photography in 1955 at the MoMA curated by Edward Steichen, "The Family of Man." Here the viewer encountered an exhibition that provoked participation and paired disparate content through hundreds of photographs. This type of new media was especially important because it didn't tell participants what or how to think.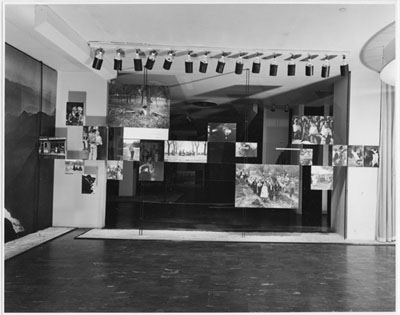 An installation view of the exhibition "The Family of Man," on view January 24–May 8, 1955 at The Museum of Modern Art. Gelatin silver print. Photographic Archive, The Museum of Modern Art Archives, New York. Photo by Rolf Petersen. © 2010 The Museum of Modern Art, New York
Over time though, much political personhood would come to be replaced by a more liberal personality that was based on individual interests and forging independent pathways. Later, by a tolerant, free trade ideology and the illusion of limitless consumer choice (I'm thinking about Chris Anderson's term "The Long Tail"). It's clear today that the dispersal of a fragmented "democratic" media has continued to lead many people away from a political consciousness and towards a self-consciousness. Just think about all of the times we've chosen to avoid talking politics. It's also clear that with current states of democracy that bridge authoritarianism, many people have given up the value of being heard.
Media, propaganda, and art have worked in dialogue for hundreds of years. For many of us today, a type of media (and mindset) dominates that is interactive yet focused on individuation. In exchanges online, in a museum, and in physical public space, we are both in control and controlled. We conveniently choose what we want to experience – and what we want to ignore. Individuation makes it hard to come together to achieve social change.
The position of being interested in something is a comfortable one in our current context of neoliberal expansion, where everything and everyone is a commodity. Being interested in something points to a detachment and furthermore a belief that we are liberated, autonomous actors. This seems to be what "democratic" media wants us to understand, yet we are never truly autonomous and always informed by the larger political field. These are all things to be aware of when we ask ourselves: Can we together build a world where we connect through differences, instead of indifference?
____________
Read more from Growing Dialogue: No Longer Interested
"No Longer Interested" by Steve Lambert – April 1, 2014
"Difference Not Indifference" by Mary Mattingly – April 2, 2014

"In Defense of Interest" by Harrell Fletcher – April 3, 2014
"The Strategies of Artspeak" by Jonatan Habib Engqvist & Lars-Erik Hjertström Lappalainen – April 4, 2014
"Sleight of Hand" by Jim Duignan – April 7, 2014
"What Do We Really Want?" by Steve Lambert – April 8, 2014
"Breaking Out of the Studio/Gallery Paradigm" by Harrell Fletcher – April 9, 2014
"Protecting Ambiguity" by Jonatan Habib Engqvist & Lars-Erik Hjertström Lappalainen – April 10, 2014
"Collective Power" by Mary Mattingly – April 11, 2014
"Time Traveling" by Jim Duignan – April 14, 2014
"Why Are You Avoiding the Question?" by Steve Lambert – April 15, 2014
"Taking On the World at Large" by Deborah Fisher – April 16, 2014
"What Artists Think Is Possible" by Harrell Fletcher – April 17, 2014
"Exploring the In-Between" by Jim Duignan – April 18, 2014
"Impossible Understanding" by Jonatan Habib Engqvist & Lars-Erik Hjertström Lappalainen – April 21, 2014
"Inventive Contradictions" by Mary Mattingly – April 23, 2014